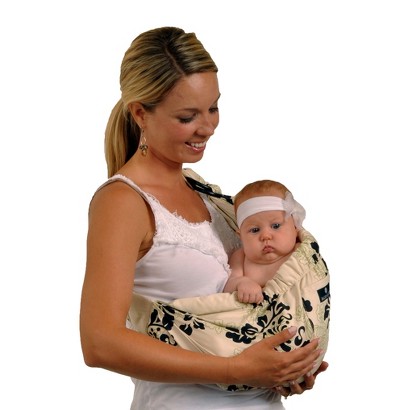 All my daughter wants is to be held 24/7. Normally I don't mind, but sometimes I need to get stuff done. It's going to be nice when they are old enough to do laundry and make dinner. However, in the meantime, that task falls on yours truly. I've mentioned in the past my use of ring slings, but I recently tried the Balboa Baby Four Position Adjustable Sling because I thought it would be a lot easier than tying a ring sling or wrap for everyday wear around the house.
My initial reaction was shock. This sucker is huge. The pouch itself is quite large and my daughter is quite small. There is absolutely no way I can carry her in the cradle position in this. I didn't even try. We did however try it in more of a sitting position, like so. Please ignore my messy bathroom and how tired I look…
I just didn't feel 100% comfortable being hands free with her, as I have with some others. Plus you can see how huge the pouch is and I had it pulled up under her like a seat.
Was it great to carry her around in? Absolutely. For little things, like making lunch or doing some things around the house this is a breeze. I just haven't mustered the courage to leave the house quite yet with this. Maybe in time.
Have you tried a product that you had high hopes for, but that kind of let you down? Moreover, have you tried the Balboa Baby Four Position Adjustable Sling?